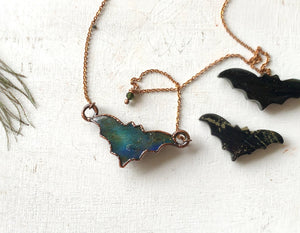 :Labradorite:
Labradorite Crystal is a stone of magic, awakening within you mystical and magical abilities and psychic powers. Labradorite is a powerful healing crystal for you to use to stimulate an increase in coincidence and synchronicity, and it is well known for it's action to boost psychic gifts.
Meditate with labradorite to connect with certain magical frequencies and vibrations that are still in existence in the ethers, to connect more powerfully with your spirit guides while doing channeling work.
This pendant is 1.5" in width, with a chain that measures 17" in length.
The vintage patina technique we utilize emphasizes the organic growth of the copper. The metalwork is finished with a tough, jewelry-grade coating that seals the metal, inhibiting tarnish and oxidation. 
SHIPPING:
In-stock items are shipped out within 3 business days (though we strive to have them shipped out much more quickly), unless otherwise indicated. If you need an item shipped sooner, please reach out to us at Yamsjewelry@gmail.com, and we will do our best to get your package shipped sooner. 
Tracking will be e-mailed to you when your order is shipped.
DISCLAIMER: 
The information on our website comes from our own experiences and from research, books, articles and information on the subjects/items.
Using or wearing stones or crystals does not mean that you can treat, cure or prevent any disease. Please consult your Health Care Professional for information on health care issues, and do not stop any medications or courses of treatment without first consulting your Health Care Professional.
The use of stones or crystals as a wellness therapy is one of personal choice. While stones/crystals have been used historically to relieve or prevent symptoms, the items we sell or recommend on our website offer no guarantee of results.